Instead of the traditional ugly stitching, sew it up immediately!
Don't worry about the flaws or holes on your clothes any more, because you have these lovely patches, and you can make a cool decoration on your clothes at will, which is very funny. 
Our Cartoon Patch Kits are another fun alternative to repairing your down jacket.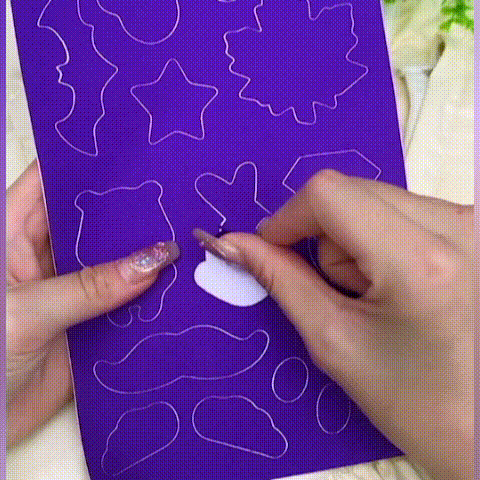 and they are still as super-strong and soft, as our original patch kits, for a very satisfying repair.
Let our "furry friends" make your jacket like new again. Bold, contrasting colours work a treat on a jacket that is hard to colour-match, and you don't even need the excuse of a tear to use one!
These cheeky fellows won't spoil the feel of your lovely jacket or sleeping bag.
🐱Each pack contains 1 patches (15*20cm) + 16 Cartoon Model : The washable repair cloth is affixed with different patterns such as butterflies, bears, maple leaves, paws, whales, bats, circles, etc.   It is suitable for repairing clothes and can be used for exquisite decoration.
【Reliable material】: The down jacket repair patches are made of fabric material, safe and durable to use, soft and washable, easy to wash by hand or machine, can work well for nylon, vinyl, rubber and plastic and other synthetic materials.
【Easy to use】: The fabric repairing patches are self-adhesive and easy to use without sewing, you can simply choose the patterns you like and directly paste them on damaged or stained places,knead and press with palm next l minutes or so to roll with hot water cup, the effect is better you can also use iron to press the patches and make them more stable; Note: Please not touch water within 72 hours after pasting.
【Nice performance】: The self-adhesive fabric patches can provide easy and nice repairing effect without leaving obvious repair marks, can cover holes, cracks, stains and more, suitable for repairing down jackets, tents, shoes, bags, coats etc. Suitable for fabrics and leathers with a relatively smooth surface.
SPECIFICATIONS
Material: Rip stop nylon
Size: 
15*20 cm/ 5.9*7.8 inch
Style: Self-adhesive
Features: DIY decoration or repairing the clothes hole
Package Includes: 3 x Down Jacket Repair Patch Self-Adhesive Fabric
Black(3pcs)
Red(3pcs)
Black+White+Red
Gray+Dark Blue+Coffee 
Light Coffee+Sapphire Blue+Red
Claret+Navy Blue+Dark Green
12 Sheet All Color